Finally getting down and writing about my 4th and 5th day of my Hong Kong trip!
H&M tank top, Topshop denim overalls, Thescarletroom bralet, Joifeth bag, Shoes from Bangkok
All dressed and ready to hit Disneyland!!!!!
Super happy day! My first time to Disneyland hehe I am dying to visit the one at Japan and Disneysea as well!!!
I don't think the photos here need any captions or anything...... :')
Had dimsum for lunch at one of the restaurant there! The restaurant was crazy crowded but the food was just....okay to me.
Please take a moment, stop and look at this Stitch hat!!!! How cute omggggg. And I don't even like Stitch. *_*
The only downside of this trip at Disneyland was that it was scorching hot. Really bloooooody warm. And super duper crowded i cannot take it.
Toy Story land! It was also only then did I realized Jens have no childhood? How can anyone not watch Toy Story before??!?!? It is one of my fav show when i was younger! It still is!
Bwahaha so cute
We only took like 2-3 rides and skipped the rest because it was too hot and the queue was driving us crazy. Decided to leave early to go shopping instead hahaha but it was good. I will be back Disneyland!!!! But on cooler days, definitely.
At Izzue resting in the changing room while Jens was trying out clothes. I like unisex changing rooms! Haha
I've always loved brick walls like this! Am thinking of revamping my room to make it like this but my dad says its not possible... Meh :(
Ippudo for dinner! I love ramen foreverrrr
Had my FAVOURITE mobile softee ice cream almost every day! So soft, so milky, not too sweet and cheap!
Here's Jens queuing up to get one for me :D
Perrrrrrfect way to end my day hehehehehe
* DAY 5 *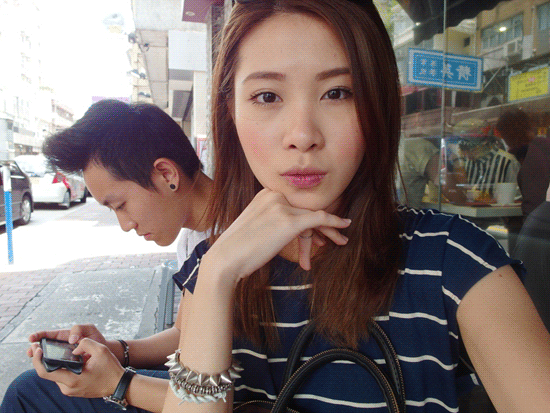 Woke up bright and early to head to One Dim Sum
(Shop 1 & 2, G/F, Kenwood Mansion, 15 Playing Field Road, Prince Edward)
on the 5th day cause i was craving for dim sum so bad plus since we didn't manage to try Tim Ho Wan the day before! One Dim Sum is a 1 Michelin Star favourite in Hong Kong as well, just like Tim Ho Wan, so we were really excited and expecting the food to be good.....
Love the BBQ pork buns here!!! So fragrant and soft!
Jens's must order dish every single time we have dim sum - Fried beancurd skin with shrimps
This - Malay Steamed Cake, doesn't sound very impressive but it was the star of the whole meal. I was so glad i decided to order it because it was SO good!!!! Freaking soft it literally just melts in your mouth omg i think i can eat this alll dayyyyy
One of my must order dish everytime - Chee Cheong Fun with shrimps!
They ran out of custard buns so we decided to try this coconut custard roll dessert! Overall we were really happy with this meal! I've been telling people around me who are going to Hong Kong to try One Dim Sum ever since i came back. Really, you must!!!! I've seen reviews saying One Dim Sum is on par with Tim Ho Wan, if not even better!
Went shopping after and then had dinner at Tsui Wah again! Possibly my fav cha chaan teng in Hong Kong hahahaha
My highlight of the day (other than the steamed cake earlier in the day)!!!! Scored 2 pairs of heels from b + ab. Super happy!
It was our last day in Hong Kong so a shopping loots shot before packing our luggage hahaha. We went to Macau the next day and stayed there for a night before flying back to Singapore. Will blog about Macau soon! I took way too many pictures of our ammmmaaaazing hotel. It is now giving me a headache because i can't decide which photos to upload -___-
Anyway, hope i somehow managed to help those of you who are planning your Hong Kong trip! If you need an itinerary, feel free to email me and i'll be more than happy to send you my humble and rough guide! I've also stated down the addresses of the places i dined at so far so hope that helps too!
Alrighty, till then! Happy midweek you guys love y'all! X